The main character of the story, Dario, is the only hero present in the party at the beginning of the story.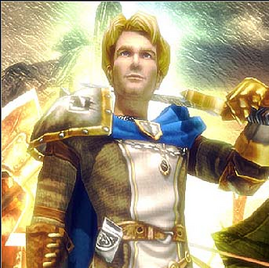 Dario is a swordsman living in the small village of
Thalgrund
in the West with his pet
Falcon
; however, an unexpected attack by the minions of the evil
Mordred
sends Dario on a wild adventure throughout the entire land. Upon clearing his village of
Thalgrund
of all threats, Dario sets off to the nearby village of
Ridgewood
to check upon his elderly
mother
. However Dario finds that the
bandits
have also attacked
Ridgewood
, and Dario's
mother
lies severely wounded. As she nears her end, Dario's
mother
explains to him that he is the rightful heir to the throne of the land, that he is the son of the once great King
Keron
. She hands him an
amulet
, and tells him that it is what the
bandits
were searching for, before she passes on. With his mother's words in heart, Dario sets off to rid the land of
Mordred
and claim his rightful throne. Battling countless enemies in the lands of
Barmecia
,
Folklung
and
Kaloix
, he and his party eventually arrive at the
Old King's Castle
, where
Garek
, an old squire of
Keron
, awaits him. Dario cleanses the area and restores the ruined castle to its former glory. After defeating
Mordred
's vile General,
Kerberos
, Dario moves on to defeat
Mordred himself
in
Evelance
, and return peace to the land.
Dario is the most well-rounded hero with useful techniques. He can send his falcon to fly in a certain direction and see what lies ahead. He can also use his leadership skills to defend his soldiers by causing enemies to retreat. The player can also get to see through the eyes of Dario's Eagle (this is the only ability that can be used all the time at any time). By far Dario's most useful skill is his ability to detect nearby enemies: if somebody is near, Dario's icon in the bar at the top of the screen will flash blue, alerting the player of possible danger.