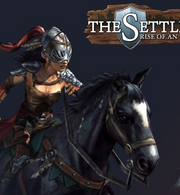 Kestral likes power, but deep down she strives for balance and stability. She sees the world as a wilderness full of beasts in which there is more darkness than light, and where one has to be strong and self-sufficient to survive.
Passive Skill: Tax collectors collect more gold without negative effects.
Active Skill: Kestral can plunder the revenue of a city building without anyone noticing.